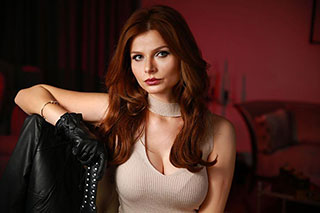 If you call yourself a Mistress, why don't you wear latex and pvc more often?

First of all being a Mistress or a Goddess has nothing to do with latex. You can be who you are without the help of clothes. Moreover you can use those artifices to hide your real you, but it's not my case. Who I really am doesn't need a mask, I am who I am and I am not afraid to express it…I am a lady first of all, and a true lady that cares about her image…I always dress the way I feel like. Taking in consideration the fact that I spend a few hours online almost everyday, latex is not the best fabric for a lady, especially in hot summer days when her skin has to look its best. But I do enjoy latex and pvc and I usually wear it on request in some of my online sessions.

Some people are outraged about the fact that you practice financial domination, what do you have to say about that?
Domination is a large umbrella that includes a wide range of fetishes and practices, among this "financial" type of control –which in my opinion has a lot to do with mental submission. The submissive is giving up more than just his money, and they WILLINGLY do it anyway, the Dominant accepts to take the POWER from her submissive. It's just like any other bdsm game. And all the outraged people should mind their own business anyway…
How do you manage to combine this virtual videochat thing with your real life?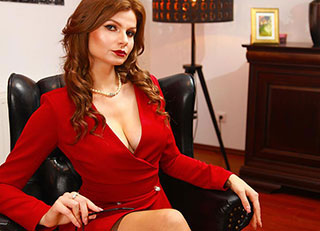 I've been asked this question quite a lot, and I am glad I can answer this way so that all my submissives can understand this. For years I've thought that this part of my life was actually virtual, and that it successfully satisfied one of my needs. It didn't all have to do with sexual needs, but with mental ones as well, as all sexuality is based on psychological needs. All impulses come from our brains in the first place. Anyway once you realize your intimate sex life has a great importance in your life, and that you have to make room for it as well, one way or another, whether it's real or virtual it doesn't matter, it's still there in your brain so either it's videochat or a real date, it's still a date, or a session. So once you realize it's all real, and that you need it and you accept it, then you're good mixing videochat with your "real" life.
What's your biggest turn on?
Being mentally stimulated
Really, how do we turn you on? If you keep coming back online, this means you enjoy it here, so tell us more?
Although I enjoy having an exciting busy life, some of my deepest fantasies haven't always been fulfilled, and those have to do with the bdsm world. That's why I'm here to explore those fantasies with submissives that enjoy the same, that is being seduced, dominated, teased, denied, sensually tortured, even tied (cbt) –I love to experience all that but what I enjoy the best is controlling your stroking, guiding you, edging you, telling you when to enjoy yourself, or denying you, even chastizing you for longer periods of time. Everything that gives us wicked erotic vibes, turns me on.
What's the greatest gift you could ever receive?
Having someone surrender to me totally.
Are you dominant in real life too?
I am being myself each moment of the day, either I'm in front of the computer either I'm in a meeting or on the beach, that doesn't matter. I like to be myself no matter what others think, and that includes standing up for my rights, my opinions, asking for what's mine, refusing to be turned down, always making myself clear and demanding respect from others wherever I go…Is that dominant enough?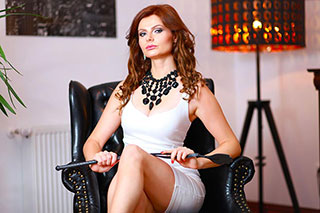 What do you think about male-woman relationship?
I think there has to be a complicity for a relationship to work, even online one. There has to be something they share, a need to be dominated, or to give in, to let yourself go with the flow, being guided. I think a lot of the girls that chat from their homes feel this need to be guided, to please, that's why there are so many girls hosting online sessions. They feel fulfilled when they show guys a great time. And there are guys who like to please…That I like! And what I like more is a man that admits woman's superiority, who isn't afraid to admit he likes to be guided, to let himself dominated, if that is the case. Male female relationships work when they both have the courage to be true to themselves and admit what they trully like, even when the man likes to be the woman in the relationship, and he isn' t afraid to say that he likes wearing girls panties and make up. ..now that's honesty, and honesty is the basis to successful relationships.

What do you, as a chat-host, expect from your sessions?

That's a good one! And I'll be honest…I'm not here to please, I'm here to have fun, and there's a big difference between the two. Pleasing means letting go of some of your personal needs and pleasures in order to satisfy the other, and that's what my submissives usually try to do. When they manage to please me then I'm happy and this is what I'm looking for in my sessions…

What does the ideal submissive/slave look like? What are his qualities?
OH, that's easy, all they have to have is the desire to improve and let themselves in my hands…the rest is my task. Willingness to give in s is enough…
How would you define a true dominant?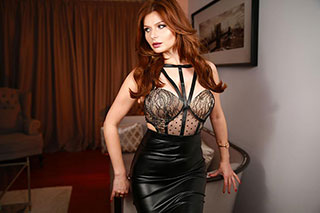 One who isn't afraid to ask for what they want , doesn't feel guilty to receive and isn't afraid to ask for even more!

Do you accept pain slaves in your sessions?
Pain is a taboo when it comes to bdsm. I find that if a slave is turned on by pain that's ok, as long as there's no real injury involved.

What are the strangest fetishies or practices you've ever experienced?
For me there are no strange fetishes, it is all acepted as long there's no incest or toilet games involved =I do no accept those. I also do not smoke. Other than that I kind of have no limits.
Out of 100000000 + women online, why should we pick you?
If you've reached my profile and you're reading this, then something must have appealed to you and we have something in common.You're probably like me, a picky, pretentious person who's always seeking for more, always looking for the best that life has to offer. And why not? After all we deserve the best! Spas, vacations, gourmet foods, designer clothes… Even when it comes to spending your own private time, making sure you get the most intense pleasure, the best role plays to enjoy your intimate time…That should be left to to me to take care of.

Ok, we found you, we like you, but, I'm still not conviced, why should we visit your chatroom?
Because I'm genuine, I love what I do, and I do it for fun. When I'm online it means I'm in the mood to enjoy quality time with my submissives…But, I'm not here to convince you, you should be the one to convince me that you're worthy of my time…