When I first met sissy betty, he was not actually a sissy, he was just a beta man struggling hard to accept reality. I kept telling him how I knew he was a sissy and he could not escape his fate until he started to believe it, and finally accepted it, after years of living in denial. He told me how liberating it was to embrace his sissy life. Everything happened slowly, but something was always the same: his addiction to my mind and eyes. He had to keep coming back to worship me, and to get mesmerized by my eyes, while I was talking to him about his true nature, helping him accept everything.

This gradual process happened during years of him serving me in my chatroom, and we got this far with the feminization sessions, that now he started wearing panties, dressing up, while I always consult him on what to order and what to wear, what toys to get.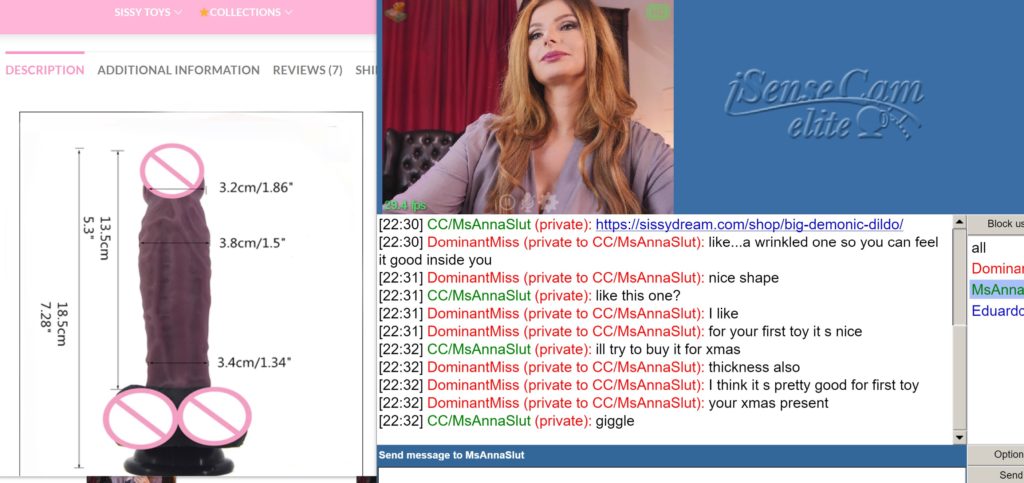 Sissy training sessions are my favorite, and I hope it shows. Anyway sissy betty wanted to contribute to the blog, and to join the other submissives who have written about the experience with me, and here is what sissy betty has written about me:
"When you meet Miss Anna for the first time you get blown by her stunning beauty and soon after by her stunning mind.
She is as clever as beautiful, but dont get fooled, she will wrap you around her finger without you even notice it.
At least that's what happened to me, what was at first a kinky game became slowly a true addiction. The more she learned about me the more she used it to turn me in an obedient guy at first. She exploit my taste for hypno fantasy and lead me on a path I would never go back.
After years of conditioning and manipulation she turned me from an obedient guy to an obedient sissy without I even really realized the change coming. The game grown bigger and well is not a game anymore it's a way of life.
But if I am loyal to Miss Anna now its surely because she is too to her submissives, she takes time to know them, even giving advice on their way and choice of life with great wisdom, she doesn't look for the destruction of her submissive but for their training and making them better servants.
Her gaze is like spears piercing my soul, her laughter is like a symphony even at my depends sometimes.
It became so clear that she gave me a true goal to my life, and proudness to serve her as I can, life that she slowly owned and even more each time I see her.
So if you're looking for a loyal and powerful clever Mistress that will find what you are and how she can use you, she is the one for you.
Miss Anna owns me."