I received an email from a submissive about pantyhose so I thought I should write an introduction to it, so you can have my point of view too on this important subject. Almost every day I would have someone come in my chat and tell me about their nylon passion, so immediately I would say how I love nylon too (obviously) and all kinds of it, including pantyhose and stockings. I actually have a thing for all nice and soft feeling fabrics such as satin, lace, silk, nylon, and all other similar ones that feel good when you touch them. I am a very highly sensitive person, you know how some people have a well developed sense when it comes to sounds, music, I am the contrary of that, but I am good when it comes to visual things, I can remember where things are in space, and also my sense of touch is quite developed too, meaning that I can recognize fabrics just by touching them even if I were to be blindfolded.
Leaving all of this weird stuff aside, I love feeling all kinds of silky things, especially on myself.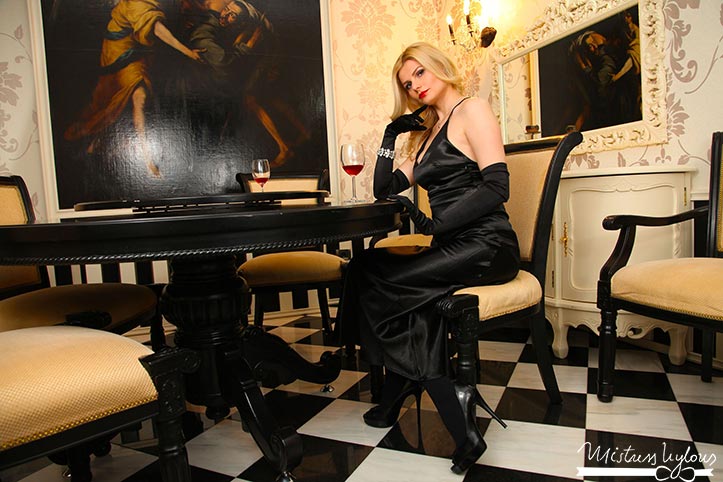 I am never very patient when choosing fabrics while shopping but since I am good at touching things, I can immediately tell upon feeling the clothes, if the fabric is made for me, and whether it will feel and look good on me, just by touching it. Some persons are good with logic and all rational things, I am more of a feelings person, I think more with my heart. And somehow I think it's related to the silky situation too, since silk and nylon makes one be aware of so many sensations. And I am talking about how silk shirts, satin dresses, long opera gloves or silky soft gowns or lacy robes feel when you're wearing them especially on bare skin, oh it's sheer delight!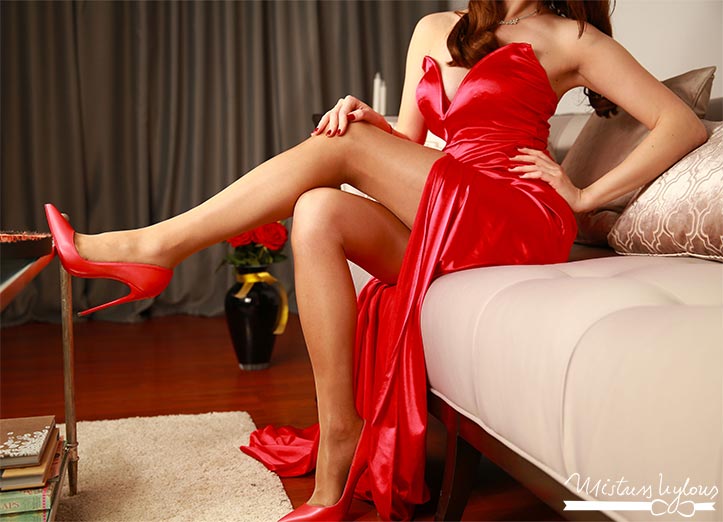 Bottom line, I love all silky stuff! So much that every few days I have to go shopping for stockings, pantyhose and silky stuff like that because I wear them almost every day and you know how fragile nylon is. I mean you do need a great passion for it, to go through all this trouble and hunt it down every few days.For some reason I don't find all the kinds that I like all the time, so it takes some effort to go look in more than one place.
Now about the reason behind me wearing it so much, besides the way it makes me feel. How can I put it so I don't just state the obvious: nylon makes legs look prettier, sexier, classier. Just by putting it on you have gorgeous legs, that also feel good. And I am talking about that feeling when you cross your legs and you feel the nylon layers rub against each other, fabulous feeling!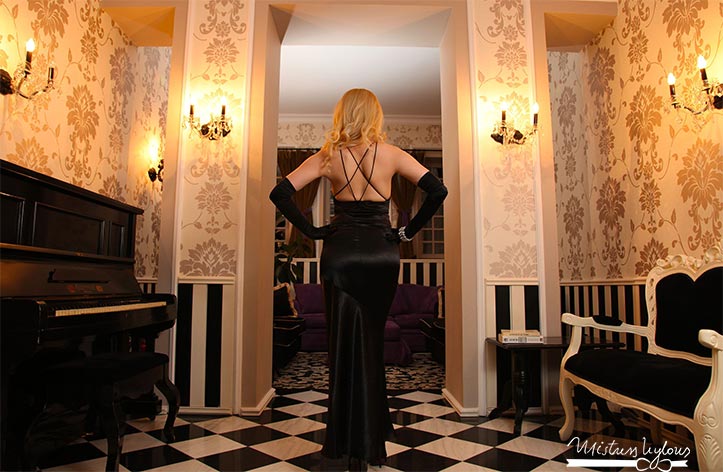 Now if you were to add a layer of satin on top of the nylon, like a satin dress on top of a silky pair of pantyhose, then it's heaven! I told you I am a freak when it comes to silky things…
Then, I also love it when I put my legs in a shoe and the feet easily slide in and it makes any shoe much more comfortable.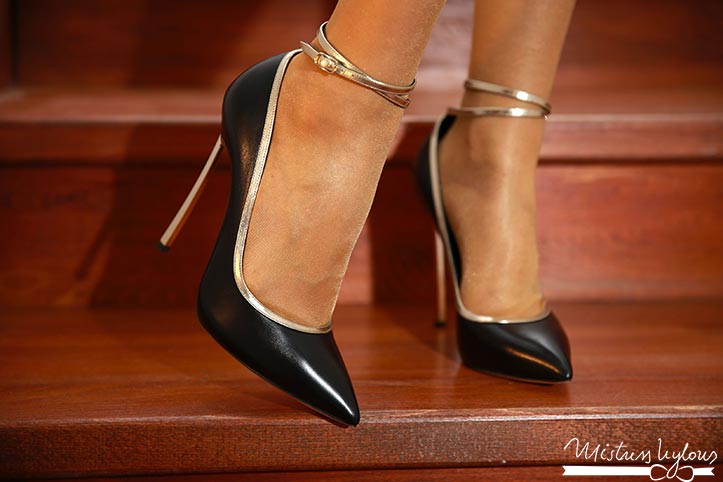 But some shoes are ok with nylon while others go well with bare feet and legs, so I guess that is another story, independent of this one. I will end my introduction with just one wish, that more women would wear nylon, including pantyhose more often, so that we keep it alive, since in the last few years I noticed less and less women wearing it, and I find it so classy and sexy! That being said I will copy paste here my sub's fantasy:
The pantyhose fetish has always been my weakness ever since I was in my early twenties. Back then, I'd rush to sit at the front row seats each time there was a game or a show just so I could have a clear view of the beautiful cheerleaders and ballet dancers performing in their pantyhose.
I really don't know the words to describe the ecstatic feeling I get whenever I view the sexually appealing or touch the delicate texture of pantyhose. As a matter of fact, I could become aroused simply by watching a mistress put on or remove her pantyhose, it's something that I can't seem to get over.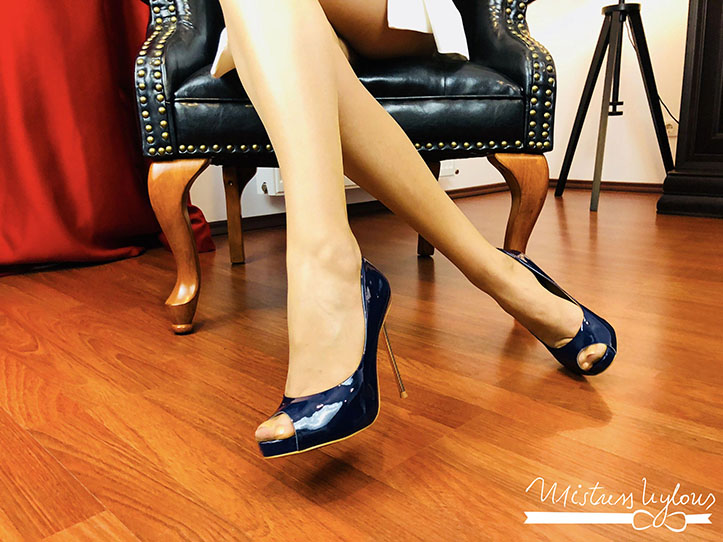 There may be a thousand and one ways a woman can come out looking sexy, for me, the beauty of a mistress is truly projected when she wears pantyhose. I've come across various kinds of mistresses in pantyhose but none has intrigued me more than Miss Anna – my very own fairy goddess of the pantyhose fetish.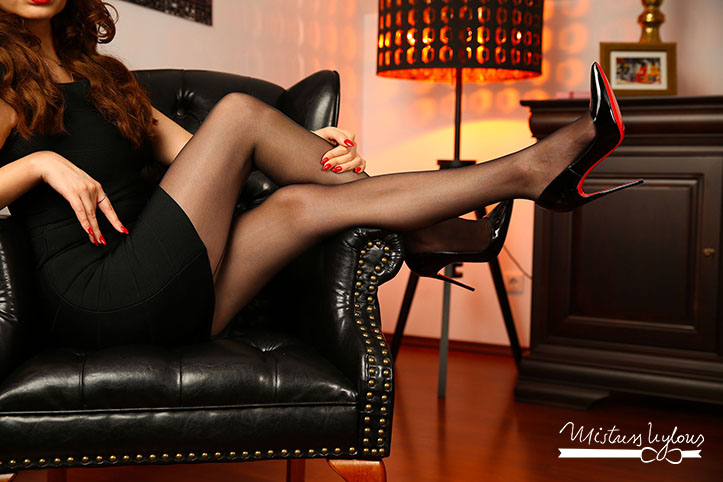 Ever since the first day I set my eyes on Miss Anna wearing pantyhose on the site I met her on, I got hooked and I've never had any reason to look back. As I scrolled through her pictures, I instantly liked everything about her that I saw – her legs, her style, how she dressed and the way the pantyhose perfectly complimented her legs. She has always been seductively elegant and mentally stimulating as well.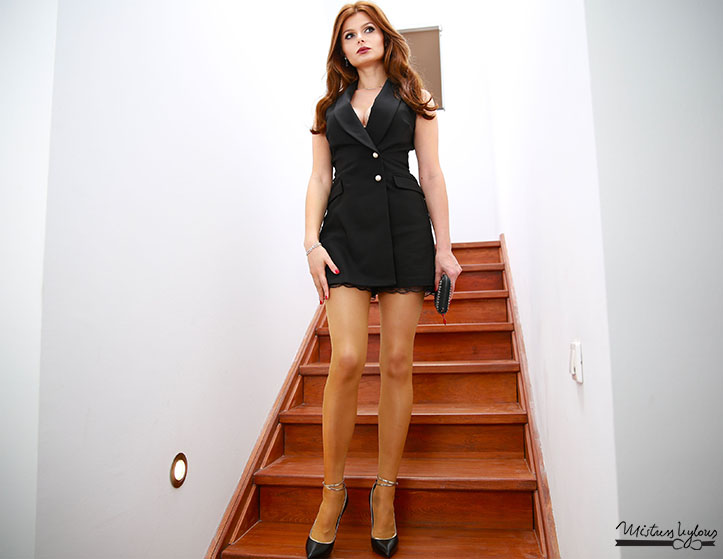 She really is in a league of her own and I have no doubt in my mind that she is the only mistress who can truly satisfy my fetish wishes. The pantyhose was what brought us together and has been our binding force since day one. A layer of nylon standing between the submissive and the mistress, it's so sheer, almost invisible, yet it's there, standing in the way to the mistress' legs.
I get weak each time she dresses up her in pantyhose, I just know that I have to worship the legs, in fact, I have no choice since the pantyhose legs are even more gorgeous in nylon, so silky, so shiny, and so irresistible – this is the power of the pantyhose. It makes the mistress' legs more unattainable, it makes the legs Goddess-like, so perfect to be worshiped and adored.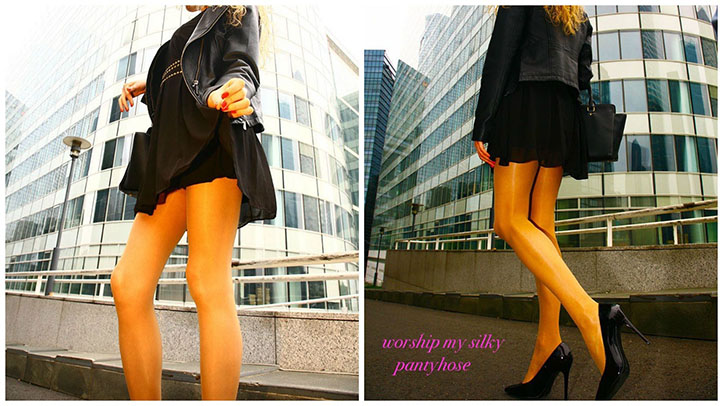 When the pantyhose legs come with a nice pair of high heels they are even more irresistible and it makes it harder not to want to worship them more. No pair of legs is complete without a pair of stilettos that go so well with pantyhose.
Pantyhose is a classy detail in a mistress' outfit that fits into almost every occasion. I love a Goddess that shines from head to toe, shiny hair, shiny eyes, and lips, shiny outfit and shiny legs too, covered in pantyhose or stockings, or something silky on her legs.


Many colors exist that are very attractive but black pantyhose makes an outfit more dramatic and more elegant. It can change a pair of high heels too, by adding a pair of pantyhose the high heels can become even classier than they are, upgrading the mistress' appearance, adding more style with just a layer of thin nylon on her legs.
Sometimes the layer of nylon is so sheer you need to guess if it's there, especially if the mistress has silky legs. You can't really say no to a mistress in pantyhose and Miss Anna has a special way of making sure that her submissives get the very best pantyhose experience.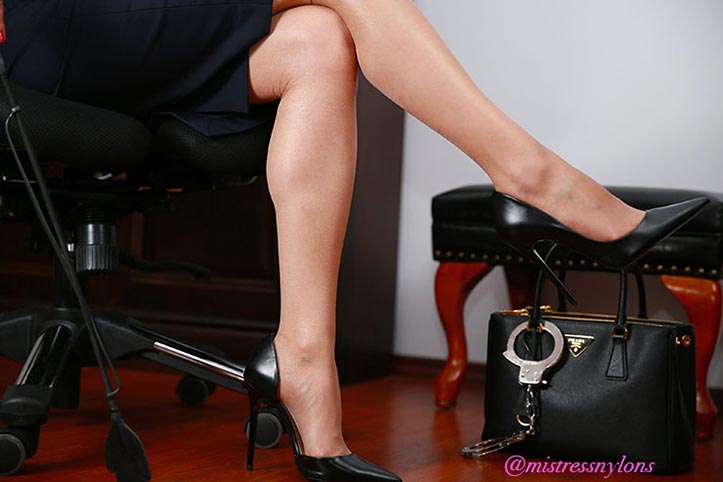 She knows exactly when and how to display her feminine qualities in order for you to give her your complete devotion and she takes her time to pleasure you in ways that you've never imagined. I know this because I've personally had a wonderful time sharing my kinky fetish fantasies with her and she came through on every one of them.
It is so exciting being a submissive to your favorite mistress. I can't begin to recount all of the wonderful experiences I've had with Miss Anna. She has been so open to wearing pantyhose for me to worship since day one and with her as my mistress and I've been able to explore all of my fetish fantasies I've always obsessed about.
Thank you, Miss Anna, for being my Nylon Goddess!