Today's fantasy I received in the mail is about leather. No wonder it's on this topic since as a dominatrix I love wearing leather very often in my online chats and sessions. I like the feeling of leather on my body, I like how it compliments my body and how I can play with different outfits to look more elegant or more strict or even glamorous if I wear it with satin for instance. I love to combine different fabrics to get different looks.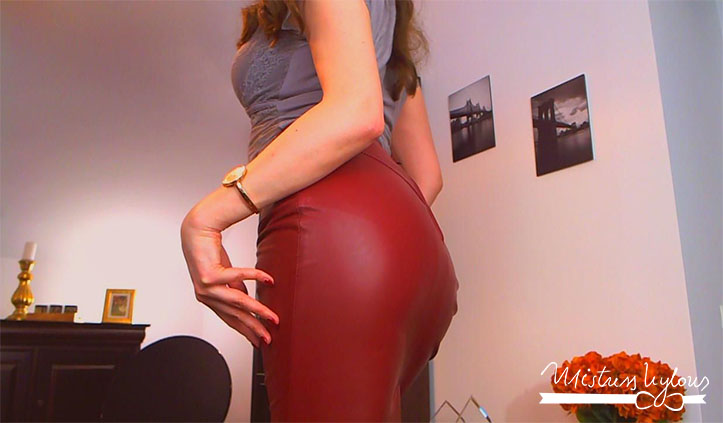 I found that one of my favorite mix and matches is lace and leather, I love how I can look soft and strict at the same time, but without doubt classy, and that is something I always want to be, classy and fabulous. Now that I introduced you to leather, I will leave you with my sub's report/fantasy:
Having a particular fetish you're obsessed with is something I never thought would happen to me until I came across Miss Anna dressed in her leather pants. Her striking beauty, her elegant posture and the way the leather pants hugged her thighs so firmly explicitly depicted the appearance of a true Goddess. Maybe it's not exactly a fetish but it is a big turn on to see her legs covered in leather and shining like crazy. I am a huge leg lover and I find leather legs to look so powerful and shiny and sexy! To that I might add my boot fetish, which was always a big weakness, hot women wearing thigh high boots always seemed the sexiest in the whole world. The way boots make legs look so sexier drives me crazy and only makes me dream of being under them, looking up at the woman she is wearing them, at that point she becomes a real Goddess.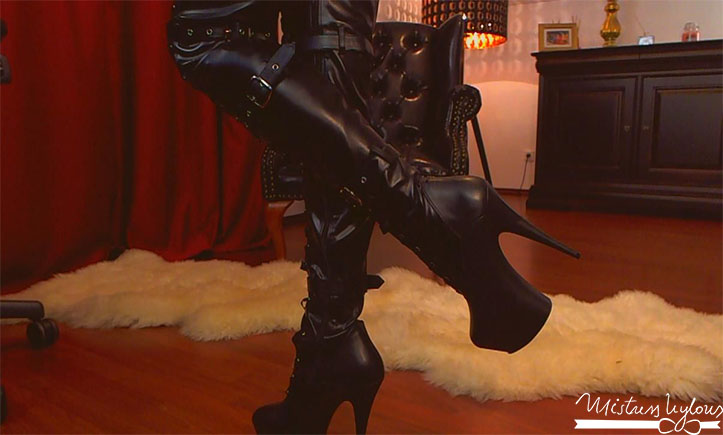 I've always visited cam sites and always looked for hot women, long legged ones, but I've never imagined I'll develop a new addiction. I can vividly remember the first day I came across Miss Anna's pics, it was like the turning point of my life. A whole new kind of fetish was revealed to me, one which I never really knew existed but always craved its pleasures and sweetness – it was the leather fetish. Actually leather on its own is quite uninteresting, but leather on Miss Anna's long legs it's heaven!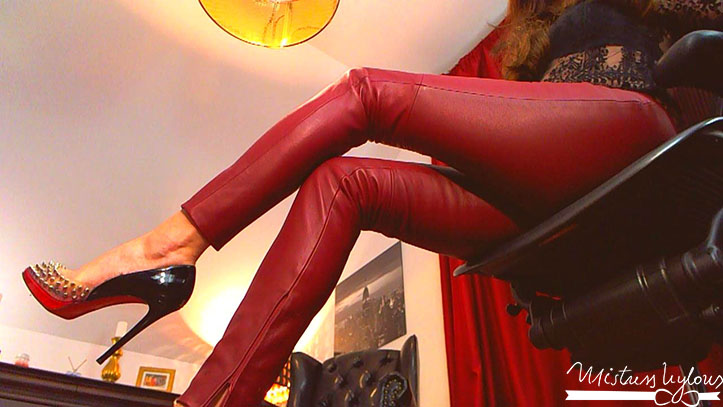 While I browsed through her archives, I could clearly see why Miss Anna was able to capture my attention so easily – her confidence in front of the cam and the way she commands respect and servitude are truly extraordinary. That same day, I read through several of her fetish blog posts and few hundred cam pics and from that point, I knew that I had finally found what I was looking for. I knew she was more than what she seemed to be: a hot lady, she was articulate and loved to use her power and her brain to make me weak.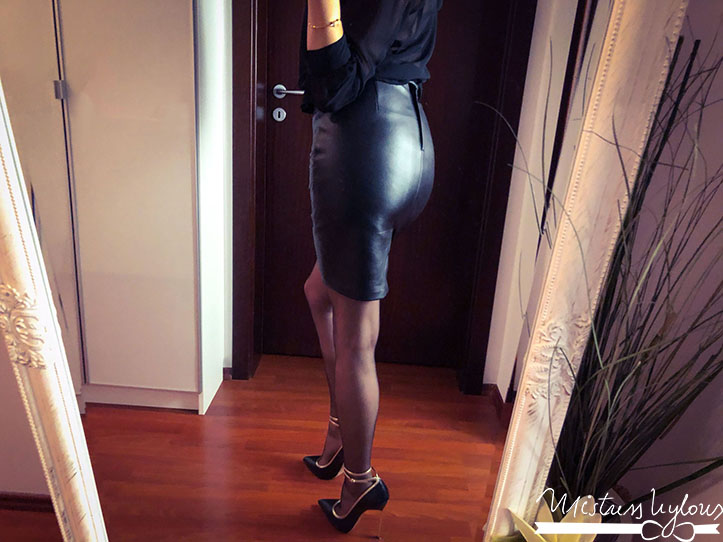 The photos of her in various leather clothing were especially my favorite. I had always wanted to serve a mistress who could make me get weak in the knees just by the mere sight of her and up till today, Miss Anna has been the only mistress who always could do that to me so very well. I thought I was a leg guy, but I think I am a brain guy also, I enjoy a genuine conversation too, not just a role play.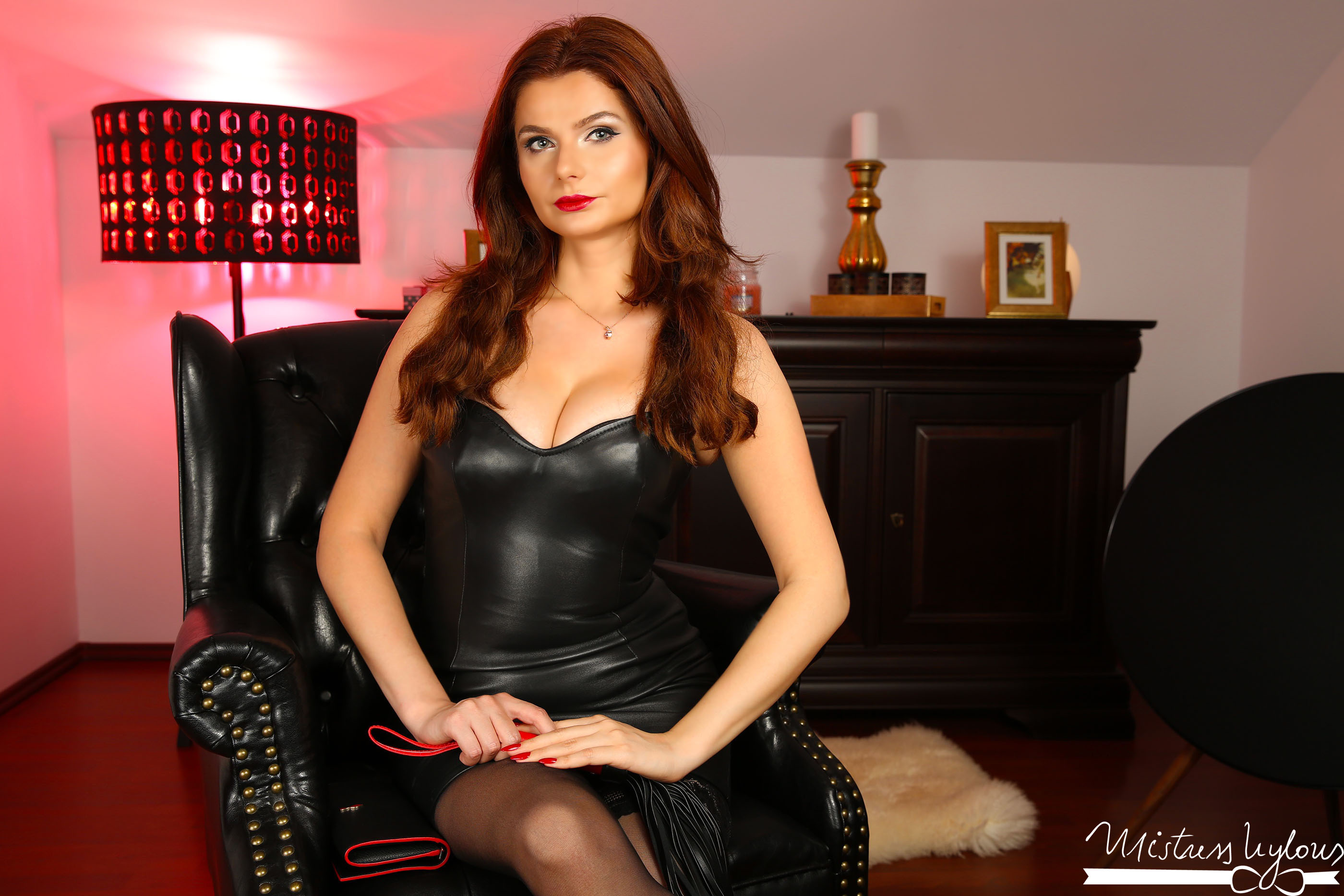 I like to know that a hot woman can be more than her looks, she can go deep inside my brain, or she can stay on the surface and just joke or smile and not just pretend to enjoy it. I need someone to look into my eyes and show how much she enjoys our time together, have a drink with me, or just lay back and be relaxed with me. She always convinced me she is genuine, and that's why I love my time with her even more.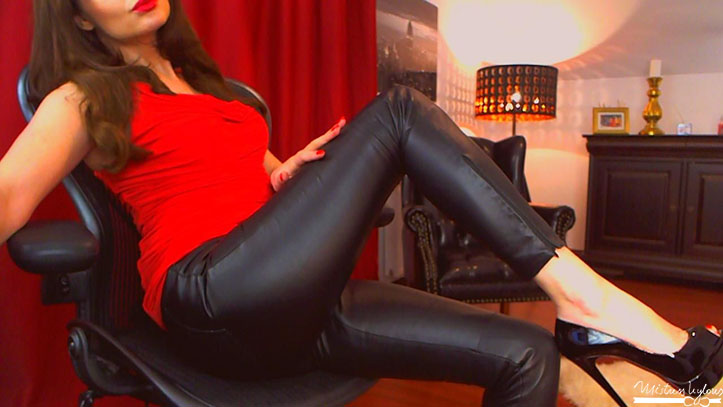 Whenever she put on leather for me, I could only imagine the strong smell of leather and hear the tight stretching sound the leather made on her body as she moved, the sound her high heels made on the floor, the whip on my body and the shine of the leather dress she was wearing – it was truly breathtaking!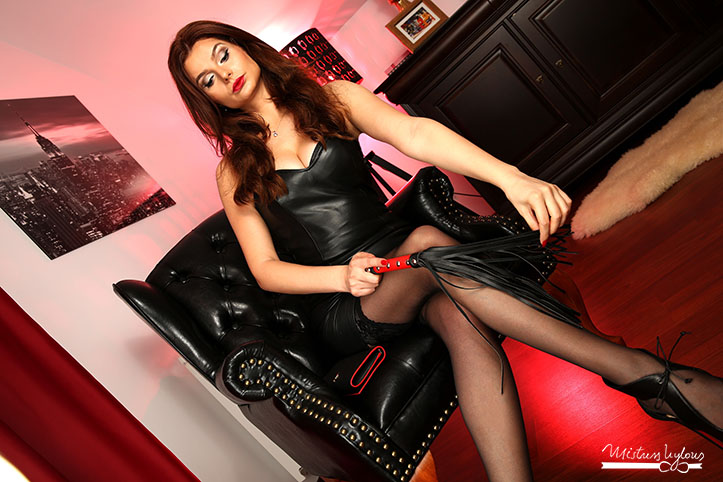 The shinier her clothes are the weakest it gets me and the more pain I can take for her. At least I fantasize about it, how she would whip me ad make me lick her thigh high leather boots!! What a delight that would be, being able to serve those dangerous shiny boots of hers.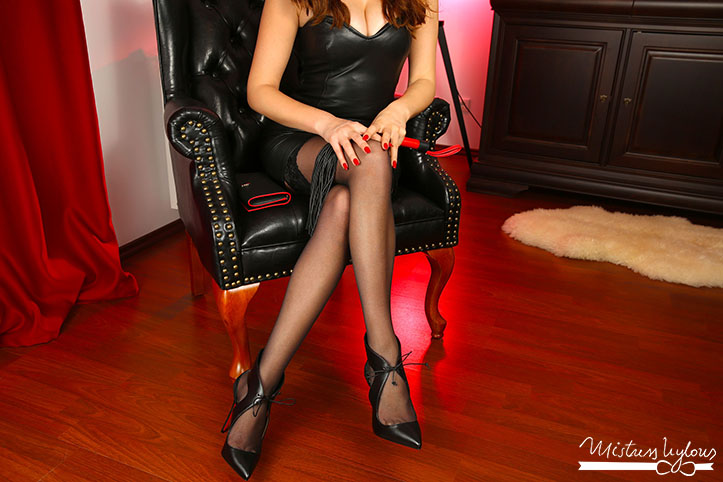 My fantasies of Miss Anna dressed in leather clothing were very strong and seemed almost real. There are times I would lie in bed and daydream about Miss Anna's thigh-high leather boots and her short leather skirt, nothing else made me feel weaker. At that moment, I feel completely at her mercy and she knows she can do as she pleases to me.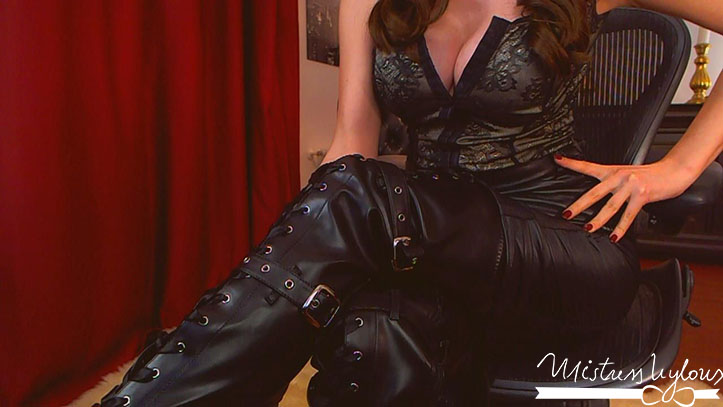 I noticed that whenever a mistress is wearing leather her whole attitude changes, she appears more dominant and in charge, and I seem willing to take an even harsher punishment from her because her leather outfit turns me on, even more, making me weak.
Leather has a way of transferring wild power to the mistress, making the submissive weaker.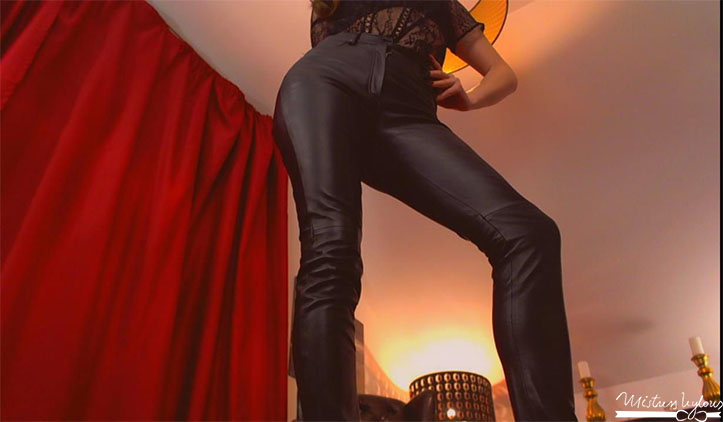 The way it shines makes Miss Anna's body even more powerful and beautiful, accentuating her curves. If she completes her outfit with leather thigh high boots or gloves her power is even more intense.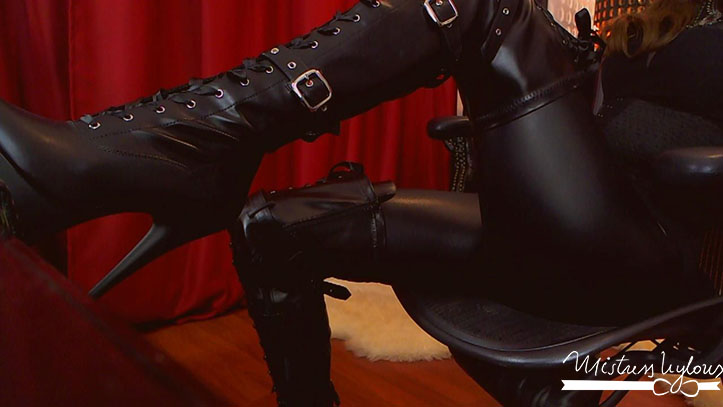 Leather triggers submission almost instantly and can easily grab my attention, making me aware of Miss Anna's power. Leather is commanding on its own – it has a power of its own which is hard to explain and only another leather fetishist could understand it fully.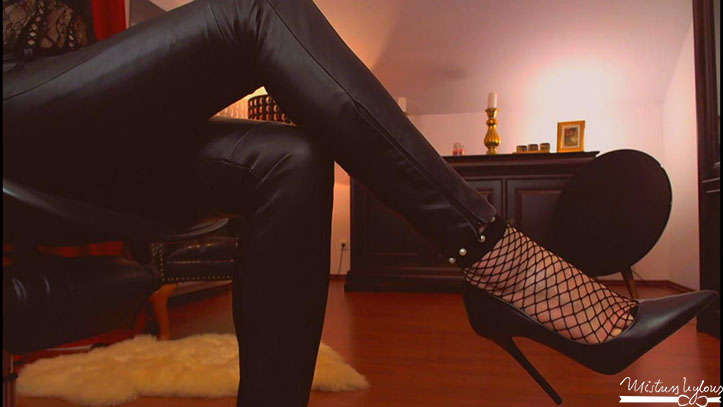 Leather is like a second skin, it takes the shape of the body so well, being such a tease to almost see the mistress body, making you imagine it, what's hiding underneath, wanting to reveal it but knowing the mistress won't do it, resulting in more tease and denial, another turn on for the submissive.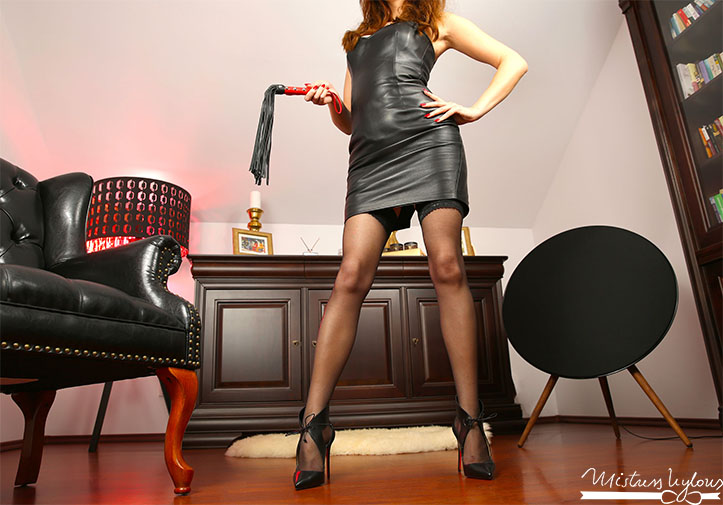 I wouldn't know for sure if I was under Miss Anna's spell or perhaps I was turned on by her leather clothing. What I find really fascinating is that no other mistress dressed in leather was able to deliver the kind of adrenaline rush or cold feeling of weakness I perceive whenever I am with Miss Anna.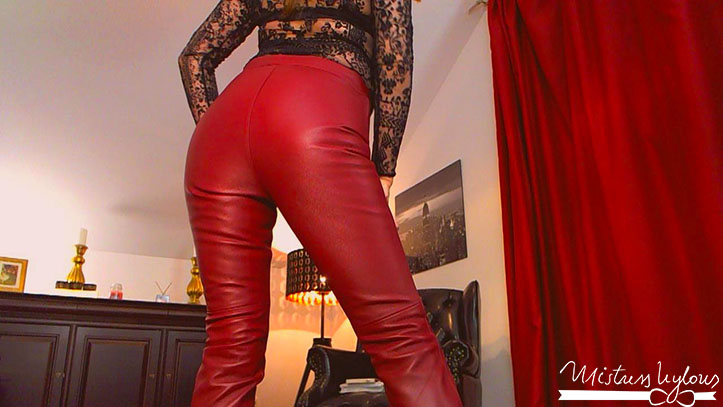 Knowing Miss Anna has been a dream come true for me and I feel very elated each time we chat. There is never a dull moment knowing you have a mistress who is fully committed to being in charge and exploiting your kinky fetish wishes. The leather fetish will always remain my new favorite addiction. Thank you so much, Miss Anna, for allowing me to serve worship you in leather.